Share 'n Earn Referral Program
Share & Earn: Make up to 14% Referral Fee
Webblink Affliliate Program:
Simplest way to become an online affiliate and start earning referral fees now!
No troublesome registration required!
No hard work!
No sweat!

It's simple! Just share and you can earn:
If you liked our health products and services, not only can you join our team and help spread the word about Best Living Health n Beauty health supplement products but you can also get rewarded for your efforts by referring your friends and families to buy at livinghealth.com.my online store.
Our system tracks referrals and pays top referral fee for every order you send us.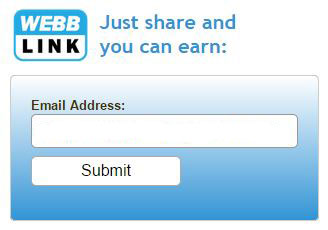 Lookout for this Share Box on the individual product pages. If the product is available for referral, this box will appear.
Just type in your email address and choose a platform to share!
If you are not registered, your email will be automatically registered to the WebbLink Affiliate platform.
How you can earn commission by just sharing the products?
By sharing the products, you become one of the seller indirectly.
If someone clicked into the website of the products from your sharing platform and eventually purchased some products, you will get referral fee from selling the products to your friends.
The more your friends buy the products through your sharing platform, the more you can earn your referral fee.
All you have to do is type in the email and choose your sharing platform! Why not have a try?
Just join the affiliate network and you can earn the following:
How would I get my money?
You may wonder, "How do I know whether someone had bought products from my affiliate link? How do I get my commission?" It's simple. Remember that you have registered your email with us?
You will be notified once you earn any sales commission from the affiliate link.
Once your commission reaches the minimum threshold of RM300, WebbLink will send you an email for registration.
Upon registration, you will get your pay-cheque subject to WebbLink Terms & Conditions.
Look at some of our products that you can share and earn:
Don't hesitate any more! Share 'n Earn Now!